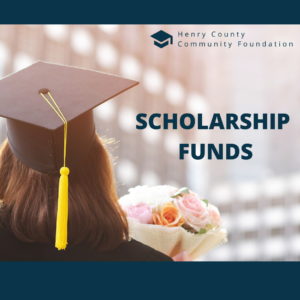 Educating our youth has always been an important priority for many Henry County Community Foundation (HCCF) donors. Before there was a permanent office, before the first executive director was hired, before the first annual meeting was held, the first scholarship fund was created at the HCCF in 1986.
The HCCF currently manages 162 scholarship funds, established through the generosity of individual donors, and over 100 community members volunteer their time to help select the scholarship winners annually. While all scholarship funds fulfill the same important purpose, education, some donors have adjusted how they are doing it.
Initially, scholarships were created solely for graduating high school seniors. However, with job market shifts, some donors have created scholarships for those going back to further education—years after their high school days.
Early on, scholarships were created to only support students pursuing a four-year bachelor's degree at colleges and universities. Now, many new scholarships support students pursuing certifications and two-year technical degrees. The late Dick Myers amended his scholarship after 20 years of concentrating on bachelor's degrees. In 2014, he had the foresight to know the importance of technical training, which he began supporting through his scholarship fund.
Regardless of the scholarship focus, every scholarship is appreciated.  With the rising costs of education, students continue to seek ways to further their education with as little debt as possible.
Stay tuned as our next article explains how scholarships are increasing the quality of life for Henry County and previously supported some of our own HCCF staff!
Donors wishing to create a scholarship fund can visit our website at www.henrycountycf.org or speak with a staff member by calling 765-529-2235.