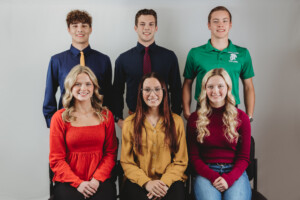 Six outstanding Henry County high school seniors have been named finalists for the 2024 Lilly Endowment Community Scholarship Program. These exceptional students are:
Wyatt Brewster, New Castle High School
Tyler Flynn, Blue River Valley High School
Kaitlynn Holderman, Union High School
Kennadi Knepley, Tri High School
Stella Leakey, Knightstown High School
Landen Mathes, Shenandoah High School
Have you ever wondered how the selection process works?
The Lilly Endowment Community Scholarship Program is a highly competitive scholarship that provides full tuition, required fees, and a special allocation of up to $900 per year for required books and equipment for four years of undergraduate study at any eligible Indiana public or private nonprofit college or university.
To be eligible for the scholarship, students must be graduating seniors from a local high school and must also be Henry County residents. Each high school nominates one student to represent their school in the scholarship selection process.
After careful evaluation, a scholarship committee made up of three judges from outside of Henry County interviews and selects one nominee and two alternates to forward to Independent Colleges of Indiana, Inc. (ICI) for the final selection of Henry County's 2024 Lilly Endowment Community Scholar.
The selected scholar will be notified in December and will have the opportunity to pursue their academic dreams without the burden of financial constraints. The remaining finalists will each receive a one-time $1,000 scholarship award from the Henry County Community Foundation for their outstanding achievements.
The Lilly Endowment Community Scholarship Program was established in 1998 with the aim of raising the level of educational attainment in Indiana and fostering a stronger connection between Indiana community foundations and their communities. Since its inception, the program has supported over 5,200 Indiana students with grants totaling in excess of $505 million.
The Henry County Community Foundation is proud to support this remarkable scholarship program and to recognize the exceptional achievements of these six outstanding students. We wish them all the best in their future endeavors.