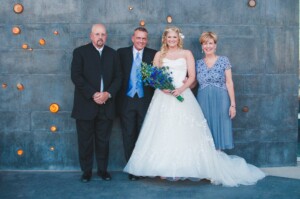 During a time when teaching positions were hard to find, Jane Cronk, decided to accept a job teaching English with the New Castle School Corporation. She didn't know much about New Castle then, but her fondness and commitment to the community grew steadily over her 39 years of teaching.
In August of 1970, she married New Castle native, Kelly Cronk, and they quickly settled into their life together in Henry County. After Kelly graduated from Ball State, he eventually went on to teach at Shenandoah Schools. There, he served as a well-known and admired PE teacher and coach for 35 years.
Jane recalls, "It really worked out well because I had my job in New Castle with my faculty friends and my own identity there while Kelly had his own at Shenandoah."
Beyond the classroom, the Cronks made a meaningful difference in the lives of foreign exchange students and one beloved foster son. Over the years, they hosted students from Spain, Germany, and Brazil. The relationships built through the exchange program continue to this day. Jane is excited to travel and spend time visiting with them.
When an opportunity came up to take in a foster teen, Jane described it as a "God moment." With the room in their home and their hearts, they welcomed him. He was able to finish high school in New Castle, attend college at Purdue, and build a life for himself thanks to the care of Jane and Kelly. Jane remembers fondly, "The experience really enriched our lives."
Looking at their legacy, it's clear to see that Jane and Kelly believed in the concept of giving back. Jane shared, "I was raised in the Catholic Church and saw how involved my mother was in giving back. Whatever you're involved in, invest in it. If you're in school, give back to that. If you're in the community, give back to that."
When it came time to plan for their future, attorney Jim Millikan, pointed the Cronks to the Foundation. Having experienced grants and great work from the Foundation through their schools, they saw the Foundation as a perfect place to give back to the community through their legacy. "I've gone to callings and funerals and I see people designate HCCF. I think the Foundation's relationship with the community is very special. It's a worthwhile cause," Jane stated.
So, they set up a scholarship fund in their estate plan. The Kelly S. Cronk and Jane A. Cronk Scholarship Fund will be awarded to one student from New Castle and one student from Shenandoah each year. Students with an expressed interest in a career in education will one day be able to apply for this four-year, renewable scholarship.
After many years of shifting and changing in the education system, there is now a dire need for quality educators. Jane cares deeply about the importance of filling teaching positions in Henry County with great candidates. She shared, "With the teacher shortage, I hope that this scholarship will inspire students to pursue education and dedicate their love for teaching to the students. I love that the scholarship will support both schools because they both meant so much to us. We really need good teachers, and I want to continue building the idea that a degree in education is a valuable goal."
Learn how you can make a lasting difference in your community through  planned giving and access your free wills planner and estate planning guide on our website.