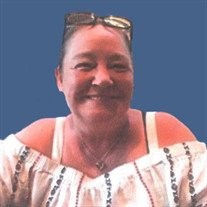 Victoria (Vicki) Lynn McDivitt Johnson, age 56, formerly of Knightstown, passed away peacefully at her residence in Boynton Beach, Florida on Thursday, April 30, 2020 with family by her side.
Vicki had the sweetest smile and was loved by everyone she met. Vicki valued and enjoyed her time with family and friends. Especially visiting with everyone on her back patio, swimming, playing cards and listening to music. She also enjoyed fishing and camping.
Vicki is survived by her husband and the love of her life, Dale Johnson; her three wonderful sons, Matthew (Lauri) Owens, Travis Owens and Jeremy (Whitney) Owens; two sweet granddaughters, Lillian Violet Rose and Mara Lynn Owens; she is also survived by four sisters, Sheryl (Mick) Roland, Mary (James) Brown, Linda (Scott) Thomas and Pamela (Neal) McDivitt; one brother, Robert McDivitt; brother-in-law, Rex Wright; she also has four step children and family, Ryan (Andrea) Johnson, Jill (Randy) Gorman and children, Bryce, Camden and Aubrey, Katie (Ryan) Wier and children Ivy and Jax, Jennifer Johnson and children Braylon and Adalee; father-in-law, Robert Johnson, brother-in-law, Andy (Lori) Johnson; sisters-in-law, Ellen Long and Theresa (Walt) Miller; and several nieces & nephews.
Vicki was preceded in death by her parents, Robert and Tampa McDivitt; brothers, James McDivitt and Thomas McDivitt; sister Karen Wright; mother-in-law, Janet Johnson and brother-in-law, Bill Long.
A memorial service will be held at 2:00 p.m. Saturday, July 18, 2020 at Hinsey-Brown Funeral Service Knightstown Chapel with Rev. James Brown officiating. Burial will follow in Glen Cove Cemetery. Visitation will be from 12 – 2 p.m. prior to the service. Memorial contributions may be made to the Henry County Cancer Society, c/o Henry County Community Foundation, PO Box 6006, New Castle, IN 47362. Condolences and memories of Vicki may be shared at www.hinsey-brown.com.