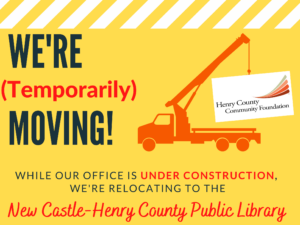 Due to unforeseen circumstances, the current Henry County Community Foundation building is in need of repairs. The office staff will be relocating temporarily. Starting on Monday, December 6, you can find us at the New Castle-Henry County Public Library. The address for this move is 376 S 15th St, New Castle, IN 47362. For easy accessibility, enter through the children's department doors.
We will continue to receive mail at the Post Office in New Castle – PO Box 6006, and our phone number has not changed – 765-529-2235. Our contact email address remains info@henrycountycf.org
We ask for your patience and encouragement as we work on this process and move into the end of the year together. We appreciate your support!