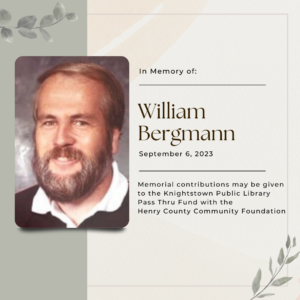 William (Bill) Easter Bergmann, 82, died September 6. He leaves his wife, Beverly, children Anna Bergmann(Chris Farrell), Erica Fitzgerald, and Corbin Bergmann (Emily Asbury); grandchildren William Farrell, Meara Farrell, Nolan Fitzgerald, and Kaz Bergmann.
Bill loved his family and his community, serving with many local organizations such as the adult adviser for the Henry County Community Foundation's Teens About Serving the County, the Henry County Heart Association, Hancock Regional Hospital, the Knightstown Library Board, and the Knightstown Planning and Zoning Commission. He taught for 34 years at Spiceland and Knightstown High Schools, coaching track and basketball, leading a team to a sectional victory in 1987.
He and Bev traveled the world, including a cruise through the Panama Canal. He introduced his children to national parks, road trips, and Major League Baseball (Go, Cards). He was an avid reader who never felt that he knew enough, though his skills at Jeopardy could make you think otherwise.
Public visitation will be from 12:00pm until 3:00pm Saturday, September 9, 2023 at Hinsey-Brown Funeral Service-Knightstown Chapel. At the family's request, there will be no public funeral service. A private burial will take place in Glen Cove Cemetery at the convenience of the family. In lieu of flowers, memorial contributions may be given to the Knightstown Public Library Pass Thru Fund C/O The Henry County Community Foundation, 700 S. Memorial Dr. New Castle, IN 47362. Envelopes will be available at the funeral home. You may express condolences or share memories of Bill at www.hinsey-brown.com.