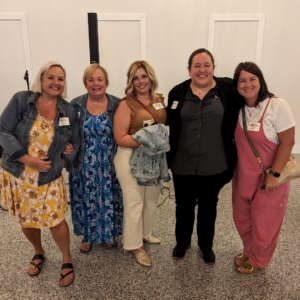 2023 Women's Circle of Friends Grantmaking Gala
This year, we held the 10th annual Women's Circle of Friends Grantmaking Gala. We had a blast celebrating impactful nonprofits with generous women in our community.
During the gala, members enjoyed the beautiful atmosphere of The Crossing at 38, and delicious food from Sweet Pea Catering Company. They were able to mingle with each other and participate in meaningful grantmaking together.
Members of the Women's Circle chose the New Castle Band as this year's top recipient. Director, Rebecca Wand, shared about what being a part of the band means to students and how this grant can help them with their financial needs this school year.
The funding for this event is provided by the registration fee. All of the fees go directly into grantamaking, allowing The Band to receive 50 percent of the proceeds while the two runners-up, Henry County Young Life and Believe and Achieve Mentoring, each receive 25%.
This year's gala was a tremendous success. We were able to raise over $4,000 to support the work of these nonprofits, which will impact the lives of kids and teenagers in our community!
Endowment grant
The Women's Circle of Friends committee chose to award a grant from the Women's Circle of Friends for Women endowment fund to Raintree Habitat for Humanity to support their upcoming women's build.
This is an endowed fund created by a group of passionate women in 2005 with the intent of supporting women and girls in Henry County.
Each year the committee chooses a deserving grantee to receive the payout from this fund.
Executive Director of Raintree Habitat for Humanity, Gene Sewell, spoke at the Gala, sharing about the 2024 Women's Build he is organizing that will benefit from this fund.