Obituary for Christopher Duane Olsen
Christopher Du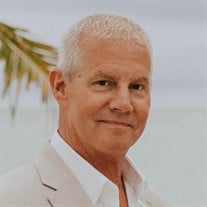 ane Olsen, 61, of New Castle, passed away on Saturday, January 1, 2022, at St. Vincent Hospital in Indianapolis following a rare viral non-covid pneumonia.
He was born on July 10, 1960, in Dearborn, Michigan, a son of the late MaryAnn (Mahan) and Duane Olsen.Chris was a 1978 graduate of New Castle High School and had worked for Imperial Wall Covering, General Motors, and Nestlé USA. He married the love of his life, Tina Dolin, in 1985. Chris was an avid golfer and loved baseball. He coached T-ball, Little League, Babe Ruth, and traveling teams as well. Chris was a member of Elks Lodge #484. He had a deep love of the ocean but most of all spent as much time as possible with his grandchildren.
Those left to cherish Chris's memory include his wife of 36 years, Tina Olsen; a son, Kyle (Kaiti) Olsen of Noblesville; a daughter, Heather Baber of Indianapolis; three granddaughters, Laney, Lilly, Kinsley Olsen; one brother, David (Leesa) Olsen of New Castle; two sisters, Tara Hardwick, of New Castle and Nancy Olsen of Carson City, NV; his step-father, Robert Howard of New Castle, and several nieces and nephews.He was preceded in death by his father, Duane Olsen, and his mother, MaryAnn Howard.
A service to celebrate Chris's life will be held at 6 pm Saturday, January 8, 2022, at Sproles Family Funeral Home.
Friends may call from 4 pm until the time of the service Saturday at the funeral home.
Memorial contributions may be offered to the NC Babe Ruth League Fund in care of the Henry County Community Foundation. Donate by Clicking Here. You may send the family a personal condolence at www.sprolesfamilycares.com.
The Sproles family and staff are honored to serve the family of Christopher Duane Olsen.
To send flowers or a memorial gift to the family of Christopher Duane Olsen please visit our Sympathy Store.