Community Effort Supplies Students with School Necessities
By: Amber Estelle
Imagine walking into your first day of school without any crayons, pencils, or paper. You sit at your desk while watching the other students fill up their desks with shiny new folders. You feel embarrassed when the teacher tells the cl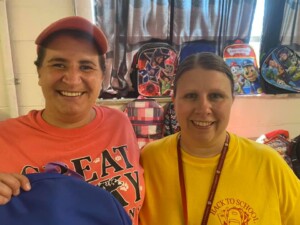 ass to pull out their notebooks because you do not have one.
Thanks to generous supporters, kids in our community don't have to feel like this.
The Henry County Community Foundation has been honored to partner with Christian Love's ministry through various grants and sponsorships. One particular event that HCCF has been assisting with is the Back to School Bash to fund the purchasing of school supplies for community families.
Christian Love has been giving away school supplies for many years, and it continues to grow. Abby Coatie is currently directing this mission with the organization. While originally from Henry County, she and her family moved away during her husband's 20 years in the army. Once he retired, they chose to move back to the area and are helping with programs through Christian Love. She shared, "We first moved back to New Castle in 2007, and it had been going on for a while. Back then, we had one little table set up with school supplies. During the event, people would have to run to Walmart to pick up more as the day went on," Abby explained.
Over time, they've been able to expand their reach. What started as a program for students in grade 5 and under has grown into supplies for pre-k to 12th-grade students. Abby shared, "We've even been able to have enough money to give backpacks to middle and high school students as well as the elementary students. We let them all pick their backpacks. We want them to feel like they're getting to go shopping and pick out their supplies and the backpack they would want."
Abby has watched several kids excitedly go through the options and pick out the backpack with the characters they love or the color they prefer. It gives the students a feeling of choice and ownership. That was something that they've been passionate about providing since the program began, and they're grateful to see it carried out throughout all of the Henry County schools. Abby expressed, "It's a whole community event. We're open to all of the local schools. We have kids from every county school that comes for supplies."
Over the last few years, the back-to-school supplies at Christian Love have partnered with Hope Initiative to put on a Back to School Bash on the same day. Christian Love facilitates the school supplies given away in their building. At the same time, the festival hosts vendors and other opportunities in other locations like the Arts Park and New Castle Henry County Public Library. Other churches have joined in the effort and have set up their give-away tables and events at the festival.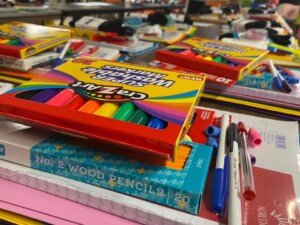 Now, the kids who come to Christian Love for school supplies are also given coupons to go to the library for haircuts, eye exams, hearing testing, and more. Since joining with Hope Initiative, the program has taken off. When they used to see around 200 kids for school supplies, they're now up to 800 kids for the festival.
While they're in their building, separated by a short drive from the rest of the events, they have found ways to make the process more efficient and exciting for families. Not only do they organize supplies by grade levels, but they also offer popsicles, which is a big bonus for lots of kids.
This event brings the community together each year. Abby noted, "It has turned into an opportunity for people to catch up with each other. It's a great thing for families that need help."
Through all of the growth, development, and changes since the beginning stages, Abby continues to give gratitude and recognition to all who help make this event possible. "We could not do it all without the community. I'm so glad we chose to come home. It's amazing to me how many organizations can work together in one day. We have workdays when we get things together and are organized. We have people working on it for months. It's not just us. It's a whole community effort."