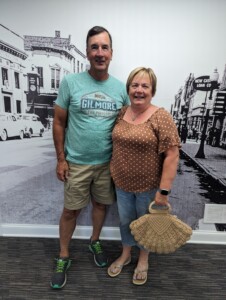 Born only 30 days apart at the hospital in New Castle, Mike and Patty Broyles grew up, graduated, and built a family in Henry County. While Patty worked at First National Bank and in the New Castle School System, Mike was part owner of Magna Machine and Tool. They raised two daughters, Megan and Mica along with a bonus daughter, Devon, and they remain very involved in their lives as well as the lives of their grandchildren.
After they both retired in 2011, they continued to volunteer much of their time to great work through Hope Initiative, New Castle City Parks, renovating downtown buildings, and the Henry County Community Foundation. Patty shared, "We wanted to give back to New Castle since New Castle has always given so much to us. We both believe in counting our blessings. We count our blessings every day. Someone else once did it for us, and now we want to pass that along. We want to help our children and grandchildren learn to do the same and be a part of giving back."
Their involvement with the Foundation started with a loss and carries great meaning for Patty, "Mike and I both got involved with HCCF through my dad's scholarship. After he passed, we wanted a way to remember him, and we always wanted to do that through the Foundation. Giving his scholarship out at the awards night is such an honor. I wouldn't be able to remember my dad like that if it weren't for the Foundation."
The scholarship is only one of many funds Mike and Patty have initiated in memory of loved ones at the Foundation. Mike appreciates that the Foundation does the work to carry on the legacy of family members who have passed, "It's nice to know that if something were to happen to us or even after we have passed, those funds will always be there in their names and making a difference in the community."
Beyond their funds, Mike and Patty both give much of their time to carry on the word and the work of the Foundation. Mike has served on the Development Committee for many years while also participating in two terms on the Board of Directors. And Patty has been a part of the scholarship committee and the Women's Circle of Friends Grantmaking Committee. Together, they send special birthday and anniversary cards each month through the Foundation to honor people they love and give to causes they care about. "You can touch so many lives through giving special occasion cards," expressed Patty.
Mike and Patty also recognize that it takes a village to uplift and strengthen their community. Mike is grateful for the mentors and examples he has had along the way through people like Herb Bunch, Danny and Patty Danielson, Marion Shore, Dick Culy. Patty continued his sentiment, "It's not just what you've accomplished but what the community has accomplished. It takes more than one couple to get the work done. It takes the whole community."
They see a lot of that work being accomplished through the Henry County Community Foundation. Mike specified, "The Foundation helps so many nonprofits and projects in the community like the parks and trails. The funds are there growing and making the community stronger and healthier."