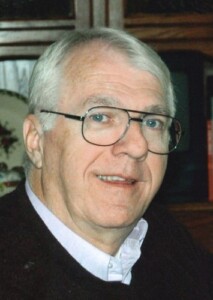 Dr. Raymond "Ray" E. Pavy, Jr., 80, of New Castle passed away Monday, May 16, 2022 at his residence. He was born November 11, 1941 in Louisville, Kentucky to the late Rev. Raymond, Sr. and Lois Amy (Weare) Pavy. Ray (reluctantly) moved to New Castle his sophomore year and attended New Castle High School. He was active in many sports but mostly enjoyed playing basketball. In 1959, Ray was named to the Indiana/Kentucky Basketball All Star team. He later played basketball for coach Branch McCracken at Indiana University where he graduated from in 1965. He received his Masters and Doctorate Degrees from Ball State University. Sports were always in his blood as he could continually be seen at IU Basketball and Football games as well as any New Castle Trojan sporting event through the years.
Ray worked as an educator for many years before joining the administrative office at New Castle Community Schools as the Assistant Superintendent and Business Manager for 30 years. Following retirement, Ray became the Interim Superintendent at Charles A. Beard School Corp. for one year, then consulted for several local schools. As an educator, he taught many courses including business, health and drivers' education.
Ray had a strong faith in God and served every board in his church, First Presbyterian Church, where he has been a member since 1977. Ray was currently the treasurer of the Indiana Basketball Hall of Fame (which he helped raise the funds to build) and has been since its opening. He was also active in the Indiana Retired Teachers Association. He is a two-time recipient of the Sagamore of the Wabash, IU Distinguished Alumni Service Award in 2017 and last year, a portion of Church Street in New Castle was renamed to Ray Pavy Way.
He is survived by his wife, whom he married on April 2, 1976, Karen L. Pavy; children, Sam Pavy, Dr. Dori (John) Ditty-Phillips; sister, Betty J. Walker; brother-in-law, David (Jan) McCoy; nieces and nephews, Bill (Cheryl) Walker, Dr. Paul (Kathy) Walker, Janice (Tom) Martin-Lozier, Chad (Alyssa) McCool, Shawn (Tonya) McCool; several great nieces, nephews, and many close friends.
In addition to his parents, he is preceded in death by his father and mother-in-law, Donald and Mildred McCoy; a brother-in-law, William "Bill" Walker; and a nephew-in-law, James Martin.
Services will be at 4:00 p.m. Tuesday, May 24, 2022 at First Presbyterian Church, 1202 Church St., New Castle, with Pastor Rod Smith officiating. Visitation will be from 4:00 – 8:00 p.m. Monday, May 23rd at the Church Street Gym, 1201 Church St., New Castle and one hour prior to the service on Tuesday at the church.
In lieu of flowers and gifts, memorial contributions may be made to the Henry County Community Foundation-Ray Pavy Scholarship, Indiana Basketball Hall of Fame, IU Athletics or New Castle Trojan Athletic