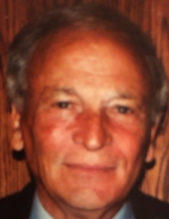 E. Lewis Larrison, was born in Indianapolis, Indiana June 25, 1926. He passed away on Monday, May 13, 2019 in New Castle, Indiana. Lew was married to his high school sweetheart, Marjorie Ann Garrett, until her death in 2002. They had three children, Luanne Larrison of Bloomington, Indiana, Amy Larrison Gillan of South Bend, Indiana, and the late Scott Lewis Larrison of Marietta, Georgia. Lew was the son of Helen Williams Larrison Cohee and Elmer Lewis Larrison. He had one brother, the late Robert Cohee (Joann and their daughter, Brenda) of Morgantown. He is also survived by his two grandchildren, Abigail Tinsley Gillan, Riley Garrett Gillan, Riley's fiance Sierra Jayne Jacob, sister-in-law Elaine Garrett Nicol, nieces and nephews.
After graduating from Howe High School, Indianapolis, Lew enlisted in the Navy, serving at the same time as his father. When his service ended, Lew attended Ball State University, earning a Bachelor's degree in 1949 and a Master's Degree in 1955. He obtained his Principal's License in 1968 and his Superintendent's license in 1973. Lew began his 37- year career in education at Chrysler High School, New Castle, in 1949, teaching industrial arts. In 1958 he left the classroom to become Dean of Boys, then Assistant Principal in 1960, and finally, Principal of the Junior High School in 1965. During his tenure as principal, Lew oversaw the construction of Parkview Junior High in 1972 and helped introduce the idea of the 'open concept' classroom and team-teaching. Lew retired in 1986 and was honored as Indiana's 1986 Secondary School Principal of the Year. He served as President of the Indiana Association of Secondary School Principals.
Lew will be remembered as a calming and experienced voice on the many boards on which he served. His love of the outdoors was reflected in his service on the board of the Big Blue River Conservancy District from 1996 until his passing, making him one of the oldest public servants in the state. He served for 3 decades on the board of the Westminster Community Center. Lew was a 50+ year member of the First Presbyterian Church of New Castle where over the years he served as church deacon and trustee. He is a past-president of the Kiwanis Club.
Lew's family and friends fondly remember long weekends at the family cottage on Bruce Lake, summer camping trips in National Parks from Maine to California, and to the New York World's Fair. Lew loved to fish and he leaves his fishing buddies to tell the stories.
In lieu of flowers, donations may be sent to the Deacon's Fund – First Presbyterian Church, 1202 Church Street, New Castle, Indiana 47362, the Big Blue River Conservancy District, 1894 South County Road 275 West, New Castle, Indiana, 47362, and the Westminster Community Center, 2600 C Avenue, New Castle, Indiana 47362.
Family and friends may call Saturday, May 18, beginning at 12 Noon at the First Presbyterian Church, 1202 Church Street in New Castle. Funeral services will follow at 2pm with the Reverend Rod Smith officiating. Burial Military Honors will be conducted by the U.S. Navy graveside at South Mound Cemetery.
Memorial contributions may also be made to the Scott Lewis "Gus" Larrison Memorial Scholarship Fund.  Click here to donate.