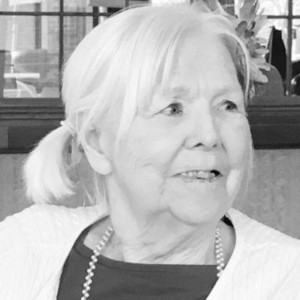 Helen Louise Billingsly, 90, of New Castle, died Tuesday, Jan. 7, 2019. She died peacefully with her family at her side.
She was born Jan. 29, 1929, in East Alton, Ill. to the late Everett and Ethel (Carpenter) Booten. She was a 1947 graduate of Wood River, Ill. High School. She moved to New Castle in 1952.
She retired from Public Service (Duke Energy) in January, 1990 after 25 years of employment. She was an active member of First United Methodist Church, Chapter CG PEO, Tri Kappa Associate Chapter, Sorosis Club and Ambassador Club of the Chamber of Commerce.
Her favorite job was at the Indiana Basketball Hall of Fame as the volunteer coordinator and scheduling their hours since 1990. Helen was awarded the Volunteer of the Year from the IHSAA in 1998. She was treasurer of the Henry County Hospital Auxiliary when the gift shop opened in the 1960s.
She also enjoyed her bridge clubs and spending time with her children, grandchildren and great-grandchildren.
Survivors include two daughters, Marsha (John) Anderson, Indianapolis and Susan (Jeff) Rucker, Fishers; son David Billingsly, Portland, Ore.; step-daughter Marilyn Dawkins Carter of Illinois; step-son Charles R. Billingsly, Peoria, Ill.; grandsons Ben (Maggie) Anderson, Cincinnati, Ohio, Brock Anderson, New York, N.Y. and Andy (Anna) Rucker, McCordsville; granddaughter Katie (Tug) Townsend, Indianapolis; great-granddaughters Lydia and Piper Anderson, Cincinnati; great-grandson Grayson Townsend, Indianapolis; sister Doris Booten, Los Angeles, Calif.; several nieces and nephews.
Preceding her in death were her husband of 46 years, Charles, who died in 1994; her son, Steven Billingsly from Los Angeles, Calif. In 2007; two sisters, Margaret Mundy, Terra Haute, Ind.; Dorothy Ventress, Chicago, Ill.; her parents and infant brother, Vernon Booten.
Memorials may be sent to First United Methodist Church, New Castle or Henry County Community Foundation: Richard P. Jennings Basketball Scholarship Fund, New Castle, IN.
Visitation at Macer-Hall Funeral Home will be 1 to 3 p.m. Friday with the funeral service to follow.
Pall bearers: John, Ben and Brock Anderson, Jeff and Andy Rucker, Tug Townsend. Final resting place: South Mound Cemetery, New Castle, IN.