Honorary Scholarship Fund Leads to the Gift of a Lifetime
By Amber Estelle
Along with winning the IHSAA Class 2A Girls Basketball Tournament during the 2002-2003 school year, Shenandoah player, Amanda Norris, was awarded the Mental Attitude Award. This award also provides $1,000 to the school corporation from Farm Bureau Insurance. A few years after this event, another Shenandoah student, Kara Keesling, was given this same honor.  At the time, the high school administration decided the best use of the funds was to give back to their students through scholarships. After the second student was awarded and the school received more award money, former principal and current Henry County Community Foundation board member, Charley Willis, decided to start a scholarship with the Henry County Community Foundation. This scholarship came to be known as the Rick Penn Honorary Scholarship.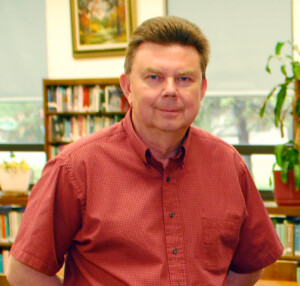 Rick Penn graduated from Peru High School, attended basic training at Fort Sheridan, earned the rank of Staff Sergeant, graduated from Ball State with a degree in English, and followed it with a Masters in the same. Then, in the fall of 1973, he made his way to Henry County.
He started teaching a full schedule of classes at Shenandoah High School. There, he also coached baseball and basketball and later became the high school athletic director, as well as the chair of the English Department.
During Rick's tenure, Charley Willis, who was the Shenandoah High School principal, worked closely with Rick for years. He shared, "Rick easily did the work of 3 full-time employees. In the classroom, Rick taught senior-level English and Government. The last few years included two dual credit English courses. Even in retirement, he taught these courses. Rick also taught government in summer school. This allowed students room in their schedules to participate in vocational programs in New Castle or Anderson."
During his time at Shenandoah, Rick received the HCCF Teacher Excellence Award. He expressed, "I have often said that Shenandoah has good young people who are surrounded by good adults. To me, the award is a reflection of all the positive impact that working together has done for our community."
Charley Willis sees the award as a reflection of Rick's hard work and dedication to his roles at Shenandoah. He said, "During my 40 years as an educator, I have never seen anyone give more to a school and community than Rick Penn."
Rick and his wife, JoAnn, saw this scholarship as an opportunity to continually give back to the students and the school to he devoted so much of his time and energy. Having received a grant from his church in Peru when he went to Ball State, he understands how much extra help can make a difference to each student. Rick and JoAnn decided to include the Henry County Community Foundation and their scholarship fund in their plans as they discussed their estate. Rick explained, "We hope to help future students get an education and remember that our scholarship helped them. Then, when they have the opportunity, they can set up funds with the Foundation, too. Through this process, we will continue the concept of giving back to the community!"
LEGACY GIVING — YOUR IMPACT STORY 
A charitable bequest in your will, like the Penns have planned in their estate, is one tool you can use to leave a lasting legacy in our community.
How does it work?

• You can establish any type of fund through various planned gift options found on page 11 or add to any existing fund with any amount.
• Receive a FREE Estate Planning Guide on our website at www.hccfgift.org to successfully plan your estate and avoid an accidental disinheritance.
• Once you make a commitment through your estate plan, let us know so we can welcome you as a member of the Legacy Giving Society.
Bonus: Sign up for a free bi-weekly email. Many of our friends find this very interesting and helpful. It features news from Washington, Savvy Living, gift stories, finance news, and timely articles. Visit www.hccfgift.org