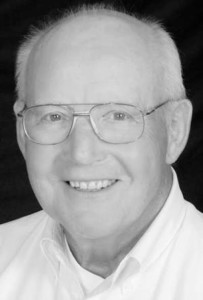 Former Mayor James L. Small, 80, of New Castle, died Sunday, January 31, 2021, at IU Health Ball Memorial Hospital in Muncie, following an extended illness from incurable cancer of the prostate, attributed by the Veterans Administration to his exposure to Agent Orange while serving in Vietnam.
He was born June 28, 1940, in Shelbyville, the son of the late George and Delight (Holdermann) Small. He was Mayor of New Castle from 2008-2011 and prior to that was City Court Judge, having been appointed in 2006 by Governor Mitch Daniels to preside over that Court. He and his wife, Jacky, had returned to New Castle two years earlier with the sole intention of retiring among friends and "watching the corn grow and the sun rise and set."
He graduated from Culver Summer Naval School in 1957, New Castle High School in 1958, and Hanover College in 1962, where he was a member of Phi Delta Theta Fraternity, Phi Eta Sigma Scholastic Honor Society and Alpha Phi Gamma Journalism Honor Society. He was commissioned in 1962 at U.S. Naval Officers Candidate School in Newport, Rhode Island, and graduated from Defense Language Institute in Monterey, California, in 1966, where he studied the Russian language for one year.
He was a Naval Officer from 1962-1972 and was stationed throughout the United States and in the Philippines and Germany. While home-based in the Philippines, he was away from the home most of the time in charge of communications intelligence detachments in the Vietnam Theater of Operations over the two-year period from 1966-1968. He was awarded three Air Medals and the Navy Commendation Medal with Combat "V" while serving with Fleet Air Reconnaissance Squadron-1 (VQ-1) Detachment, Da Nang, participating in 68 aerial reconnaissance missions north of the DMZ.
His last tour of duty was at NSA, where he was the training officer for communications detachments deployed on submarines. While in that position, he also was the officer-in-charge of detachments on two submarine patrols.
From 1972-1995 he was a research engineer with the Illinois Institute of Technology Research Institute (IITRI) in Annapolis, Maryland. Following retirement from IITRI as a Senior Engineer he and his wife, Jacky, worked for nine years as professional gardeners, maintaining a large estate overlooking the Severn River in Arnold, Maryland, for most of the time.
He was a member of Rotary Clubs in Annapolis and New Castle for 40 years and had sung in a number of Episcopal Church choirs, the U.S. Naval Academy Chapel Chorale, the Bach Meistersingers in Annapolis and the 180-voice Annapolis Chorale, which performed The Messiah in Carnegie Hall two months after September 11, 2001, and, more recently, the Saint Anne and Presbyterian Church Choirs.
Surviving are his wife, Jacqueline Margaret (Corcoran) Small of Edinburgh, Scotland, whom he married on February 13, 1965, in Silver Spring, Maryland; son, James M. Small, of Pasadena, Maryland, and daughter, Julie K. Wright, of Glen Burnie, Maryland; two brothers, Robert H. Small of Annapolis, Maryland and George M. Small of Mount Pleasant, South Carolina; four grandchildren; one great-grandson; three nephews and one niece; and many cousins.
A traditional Anglican Funeral Service will be conducted at 11:00 am on Saturday, February 13, 2021 at the First Presbyterian Church, the Small family church, with the Reverends David Fleming and Rod Smith officiating. Burial will follow in South Mound Cemetery with military honors, horse-drawn caisson, and bag-piper.
Friends may call from 5:00 -7:00 p.m. on Friday, February 12, 2021 at Sproles Family Funeral Home.
Memorial contributions may be made to the Henry County Community Foundation Flex Fund or to the New Castle First Presbyterian Church. You may send the family a personal condolence at www.sprolesfamilycares.com.
The Sproles family and staff are honored to serve the family of James Louis Small.