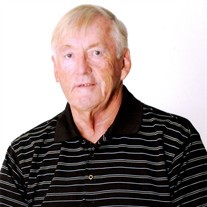 John Alan Lee, 77, passed away peacefully in his own home on Sunday, December 15, surrounded by his loving family. John was born in New Castle on February 26, 1942, to Wilbur "Skinny" Lee and Hallie (Shirk) Lee. He was the third of three children and was a "surprise", as his sister was 17 and his brother was 15 when he was born.
While in the hospital after his birth, he met his wife of 56 years, Martha Pollard, who was born the day after him and occupied the bassinet next to his in the nursery. They were married on September 1, 1963, a mere 21 years after their first introduction. Together, they produced John David Lee of Yorktown and Stephanie Lee (Garrett) of New Castle.
John attended Parker Elementary school and then went on to New Castle Chrysler High School, where he was a standout athlete in basketball and football. He set the Fieldhouse record for most points in a game (52) against Lewisville. The record stood until it was broken by Kent Benson over 10 years later. He was All-North Central Conference in basketball and was named to the New Castle Athletic Hall of Fame in 2013. Following his graduation, he attended Ball State University on a basketball scholarship. He finished his career as the 4th leading scorer in Ball State history at the time and averaged over 17 points a game for his career. His athletic career was capped by his induction in to the Indiana Basketball Hall of Fame earlier this month, an honor that both he and his family were and are very proud of.
Following graduation from BSU, he coached and taught at Marion High School, then served as the principal of the school at the New Castle State Hospital. He obtained his Master's and EDS degrees at Ball State and went on to be athletic director and vice-principal at Shenandoah High School. He was the athletic director for the SHS team that went to the state finals in basketball in 1981, the only team in school history to achieve that in a single-class system. He left Shenandoah in 1981 and served as vice-principal at Parkview Junior High School until his retirement in 1998. He also served on the New Castle school board. In the last few years, John worked as a medical transporter, taking people to doctor's appointments and hospital visits. He enjoyed this immensely, as it allowed him to meet many new people.
John was a fixture at the American Legion Golf Course at Memorial Park for many years and was often the one who "organized" the morning games of golf. He shared his passion with his son and they were able to go on many golf trips together, including Myrtle Beach, Biloxi, Florida, Michigan, Arizona, Pinehurst, Pebble Beach, and Scotland (twice). He was nearly a scratch golfer and had 3 hole-in-ones, even though he didn't get his first one until after the age of 50. Some of his favorite moments were experienced on the golf course and he developed lifelong friendships with many of the golfers that he knew. He was also very active at the Elks Lodge in New Castle, where he continued his father's legacy by presenting the Wilbur "Skinny" Lee Elks scholarship to countless students, including his daughter, niece, and nephews. Up until this summer, he was often found playing gin in the card room at the Elks lodge with his friends, including John Heck, Jack Spangler, Jim Myers, and Dave Cook, among others.
John was very active in the community of New Castle his entire life and loved his hometown. He was always ready to lend a helping hand to friends and neighbors, usually with little or no fanfare. If anyone ever needed something done, they knew that they could go to John and get help in getting it done. He was a highly-respected member of the community and was held in high regard by his peers in the education and athletic fields.
Although, he was passionate about his community, John's biggest passion and joy in life was his family. His and his wife's profession allowed for long vacations with family, a tradition that was carried on for over 50 years and included trips to Florida, Hawaii, Alaska, Maine, California, and all points in between. He loved nothing more than to go on trips with his children and their families. He was always, along with his wife, at EVERY athletic and school event, even if it was just for one line of a play, one free throw or soccer kick, or one word at a spelling bee. Even after becoming ill, he could be found at every game, party, or family get-together, encouraging others and bragging on his kids and grandchildren. He was always very supportive and encouraging to all members of his family in all their endeavors and interests.
John was a member of Trinity United Methodist Church after being a member of First United Methodist Church, where he served on many committees. He was also active with the Fellowship of Christian Athletes and took his wife and kids, along with several high school athletes, to a national FCA conference in Colorado in 1984. He demonstrated his faith through the many selfless acts of kindness that he displayed to his friends and neighbors.
John leaves to cherish his memory his wife of 56 years, Marty (Pollard) Lee, son, John David Lee, daughter, Stephanie Garrett (Husband: Marty), and four grandchildren: Allyson Garrett, Andrew Garrett (Girlfriend: Madison Garreth), Austin Garrett (Girlfriend: Lindsey York), and Cody J. Lee. He is also survived by several cousins, nieces, and nephews.
He was preceded in death by his parents; a sister, Virginia Miller and a brother, James B. Lee.
Services will be held at Sproles Family Funeral Home in New Castle, with calling hours from 4 – 8 pm on Thursday, December 19, 2019 and funeral service at 11:00 am on Friday, December 20. The service will be officiated by Pastor Joel Troxell and Pastor Hannah Wiswasser. Burial will follow at South Mound Cemetery West Lawn Addition. The Elks Lodge will have an honorary service during the calling on Thursday.
In lieu of flowers, please make donations to the John A. Lee Memorial Scholarship through the Henry County Community Foundation with envelopes available at the funeral home.
The family would also like to express their gratitude to the many friends, health care workers, and community members that were supportive and caring during his recent illness. The outpouring of love for John and family was and is deeply appreciated.
You may send the family a personal condolence at www.sprolesfamilycares.com.
The Sproles family and staff are honored to serve the family of John Alan Lee.