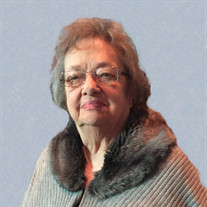 Leacher M. Carter, 81, of New Castle, passed away Friday, October 20, 2017 at Heritage House in New Castle. She was born July 4, 1936 in Monticello, Kentucky a daughter of Herbie and Ethel (Owens) Upchurch.
Leacher retired from the Henry County Assessors office after 22 years of service. She was co-owner of all-4-Kids shop in New Castle. She was a member of Memorial Wesleyan Church and was previously a member of Spiceland Church of the Nazarene for 40 years. Leacher enjoyed cooking, having company, serving and entertaining. She was a natural care-giver to her husband, children and grandchildren.
She is survived by four children Karen S. (Jack) Bimber of New Castle, Gary W. (Karen) Carter of Kissimmee, FL, Janice E. Lovell of Nashville, TN, and Don B. Carter of New Castle; five grandchildren, Daniel and Travis Carter of Kissimmee, FL, Hannah (Quinn) Dilley, serving in the U.S. Army in Vilseck, Germany, Allison Bimber of McLean, VA, and Chase Lovell of Nashville, TN; and siblings, Pauline Ziglar of Ormand Beach, FL, Margie (Jerry) Davis of Harrison, OH, Clyde (Sherry) Upchurch of Monticello, KY, Lena Stockett (Doug Carlisle) of Springfield, TN, Keith (Margaret) Upchurch of Cross Plains, IN, Curtis (Brenda) Upchurch of Cannan, IN, Gale (Brenda) Upchurch of Monticello, KY, Larry Upchurch of Monticello, KY, sister-in-law, Ruth Upchurch of Monticello, KY; and several beloved nieces and nephews.
In addition to her parents, she was preceded in death by her husband, Russell Carter; grandson, Joseph Russell Bimber; son-in-law, Chuck Lovell; and brother, Kay Upchurch.
A Celebration of Life service will be at 11:00 AM Wednesday, October 25, 2017 at Hinsey-Brown Funeral Service in New Castle with Pastor Paul Kirk and Rev. Jack Bimber officiating. Burial will follow in South Mound Cemetery, West Lawn Addition. Visitation will be from 4-8 PM Tuesday. Memorial contributions may be sent to the Joseph Bimber Scholarship Fund, c/o Henry County Community Foundation, PO Box 6006, New Castle, IN 47362. Condolences and memories of Leacher may be shared at www.hinsey-brown.com.