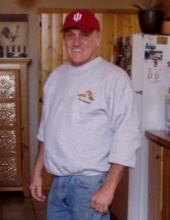 Michael "Mike" Bruce Shepperd passed away on the 15th of June 2022 peacefully at home from natural causes. He was comforted by his daughters Shannon Upchurch, Emily Voiles, and best friend Tammy Austerman. Mike was 76 years old.
Mike Shepperd was born in New Castle, in Henry County, Indiana on June 1, 1946. He was the only son of Fred Shepperd and Treva Wright Shepperd.
Mike retired from AT&T with 11 years of service. He co-owned The Sports Depot in New Castle, Indiana. His last Job was bartending/cooking at the Ice House, New Castle, Indiana.
Mike was a beloved son, brother, father, uncle, and friend. Mike lived 1000 lives, experienced 1000 adventures, and shared 1000 stories. Throughout life, with whomever he was surrounded, Mike enjoyed life to the fullest. He loved his people.
Mike was born and raised in New Castle Indiana and lived 20 years in Ft Lauderdale, Florida before returning to New Castle for the remainder of his years. Mike grew up in New Castle playing Babe Ruth baseball. At New Castle Chrysler High School, he played on the football, basketball, and baseball team. He loved the Indy 500. Mike enjoyed watching and playing golf. Football was his favorite sport. The Miami Dolphins were his favorite team. Mike loved Sports! He was a proud Hoosier and New Castle Trojan.
Friends were a big part of Mike's life. The Frost family 4th of July bash and Christmas party were a favorite. The gang at Steve Shostle's garage experienced the best of times over these last several years. Mike loved sharing stories from his Ice House days. Bruce and Kisha Horan, thank you for caring for our father as he belonged to you. Jason Loveless, he loved you like a son. Jay Crask a friend from high school thanks for the daily calls. Lastly, Bruce Goodwin his brother at heart, he enjoyed all the Indy 500 trips and Thanksgiving dinners. It is for certain; Friends make the world go round.
Special thanks to Henry County Hospice.
Daddy, we will forever cherish all the memories and adventures we have shared over the years. May your soul find comfort in Heaven. We love you.
For the many friends, family members, and colleagues that would want to do something special in Mike's name, please feel free to make a donation to the "Friends of Bundy" in his honor
HERE
. Mike was a proud Trojan, and Bundy Auditorium is a part of all of our lives.
Rose City Funeral Home staff and directors are honored to serve the Shepperd family during this difficult time.