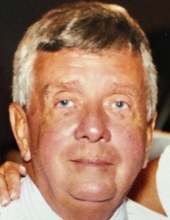 Richard W. (Dick) Myers, 82, a New Castle resident, passed away Friday, November 10, 2017.
He was born August 16, 1935 in Indianapolis, IN, a son of Mark and LaRue Hale Myers.
Dick loved the Lord and was a faithful and active member of the Holy Trinity Lutheran Church, having served on many committees.
Dick proudly owned and operated Myers Furniture and Appliances for more than 60 years. He first joined his father, Mark Myers, in 1956 in the family business and later proudly worked alongside his grandson, Jason Armstrong.
He loved his family and showed it every day with his encouragement and support. He loved spending time with family, including attending and supporting the athletic events or activities of his wife, children, and grandchildren. He also enjoyed traveling, golf, and going on golf trips.
Dick was a selfless community activist, and raised funds for many Henry County organizations such as the New Castle First Aid Unit, and the New Castle Band Boosters. He worked tirelessly at the Henry County Community Foundation and led the grants committee for many years.
He was an active member and leader in the United Ostomy Association having traveled across the United States and internationally to lead educational and fundraising efforts.
He was a board member at Citizens State Bank and belonged to many organizations including the YMCA, the Rotary Club and the New Castle Elks.
Dick was also an avid supporter of New Castle Trojan athletics, including New Castle basketball, volleyball and the recent resurgence of New Castle football with his grandson, Coach Kyle York, at the helm.
Simply put, Dick Myers loved life.
Left of cherish his loving memory include his wife of 61 years, Bonnie Reeves Myers, two daughters, Brenda (Jack) Armstrong, and Penny York, his grandchildren, Brandon (BJ) (Megan) York, Bloomington, IN, Kyle (Jessica) York, Stacey (Zach) Tolle, and Jason (Kristi) Armstrong. Also surviving are his great grandchildren JT, Lily and Claire York, Beau and Shepherd York, Bloomington, IN, and Lucy Armstrong.
He is survived by a brother, Jim (Judy) Myers, his nephews, Todd (Colleen) Myers, and Tim (Sarah) Myers, Dan (Amy) Smith, Randy Smith, and a niece, Lynn (Greg) Olson.
Dick was preceded in death by his parents, Mark and LaRue Myers.
Memorial contributions may be made to the Henry County Community Foundation to Dick's donor advised fund, or to the Holy Trinity Lutheran Church.
Visitation will be on Tuesday, November 14, 2017 from 4-8pm at the Holy Trinity Lutheran Church, 535 S 14th St. New Castle, IN.
The funeral service will be Wednesday, November 15, 2017 at 10:00 am at the Holy Trinity Lutheran Church with Pastor Matthew Masko officiating.
Burial will follow at South Mound Cemetery.
Online condolences may be made to www.macerhall.com
Macer-Hall funeral directors are honored to serve the Myers family.
Click here to donate.