By: Amber Estelle
What do two Blue River graduates, one New Castle graduate, and one Tri High graduate have in common? They all received scholarships from the Henry County Community Foundation!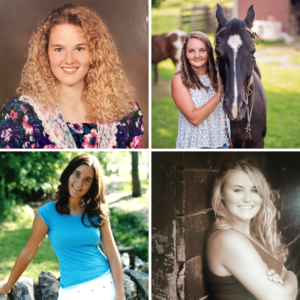 Jennifer Fox, Rachel Snavely, Amber Estelle, and Hilary Bennett are their names, and if they sound familiar to you that's because they all work at HCCF!
That's right, the scholarships established by generous donors at the Foundation made an impact on the lives of four current staff members.
Jennifer remembers feeling exceedingly grateful when she was awarded scholarships from HCCF, "they lessened the burden for me to attend college, and I felt support from my hometown." With her brother attending college at the same time, she knew she would need assistance to ease the financial load on her family.
Similarly, Rachel started college with the goal to graduate debt-free. Through working several part-time jobs, saving up, commuting, and family support, she was able to cut down the cost. It was the funding from the scholarships that allowed her to achieve her goal of graduating without any student loans.
She expressed, "Being a scholarship recipient has allowed me to breathe and focus on my education, instead of stressing about the financial aspects. I encourage every high school and college student to apply for scholarships. The Henry County Community Foundation has so many wonderful scholarship opportunities for students. I am thankful I was blessed with those scholarships and the opportunity to work as an intern for this amazing organization."
Hilary now serves as the Program Director at HCCF. Having a personal experience with the scholarship process, she is able to apply that to her position as she helps students along the way. She has an appreciation for the difference scholarships are making in the lives of students.
All four staff members recognize the great benefit scholarship funds are to local students. Amber summed up the significance of such gifts in sharing, "these donors care about the community and the people living in it.  By creating those scholarships at the Foundation, the scholarship will be available forever, through the power of endowment."