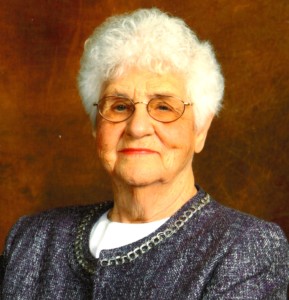 "Her children rise up and call her blessed." ~ Proverbs 31:28
Virginia Evelyn Smith, 96, of New Castle, passed away on Friday, August 3, 2018 following a brief illness. The 10th child of 13 children, she was born to H.E. and Catherine (Kate) Amonett in Byrdstown, Tennessee on September 23, 1921.
She married O.B. Smith on Feb. 26, 1938 and they lived in Pickett County Tennessee at Lilly Dale, a property owned by her father before it became part of the Dale Hollow Lake and Dam project, completed in 1943 by the U.S. Army Corps of Engineers to generate hydroelectric power for the rural area. As their family grew, they lived in Eutaw, Alabama; Akron, Ohio, and settled in New Castle to raise their family when O.B. secured a job with Chrysler Corporation.
While growing up on the family farm during the depression, Virginia learned hard work at an early age but she and her 12 siblings and their families were never without, nor hungry and shared with others. As part of a big family, Virginia loved playing card games and visiting the Tennessee State Fair to ride the roller coaster. Athletic, she played basketball for the Pickett County Lady Bobcats in the 1930s and continued to practice those athletic drills and exercises her entire life. An avid sports fan, she loved watching the New Castle Trojans and Indiana Hoosiers and attended many games. She loved going to church and spending time with her family, where she hosted holiday dinners up into her 90s. She also enjoyed traveling, taking trips with her children and grandchildren throughout the country for vacations and visits with family and enjoyed dancing.
She and O.B. were charter members of the New Castle Church of Christ, where her membership was sustained for 55 years. Virginia's strong faith in the Lord was modeled for her children, grandchildren and great-grandchildren, showing how to deal with life's struggles and blessings – relying on God's promises.
Retiring from Dana Corporation after 30 years of service on Dec. 31, 1985, Virginia loved getting together with the "Dana Girls" for lunch reunions following retirement. She also volunteered at the Indiana Basketball Hall of Fame. A lifelong Democrat, that began with her first presidential Vote for Franklin D. Roosevelt in 1944, she frequently worked the election polls in Henry County considering it her civic duty to help everyone get to Vote.
Survivors are her children, Don (Suzy) Smith of Wilkinson, Beverly (Duane) Matthews of New Castle and her daughter-in-law, Cathy Smith of Byrdstown, Tennessee; grandchildren, Jeff (Kathy) Smith of Port Orange, Florida; Pamela (Duane) Ford of Thompsons Station, Tennessee; Greg (Lori) Smith of Byrdstown, Tennessee; Scott Pfenninger of New Castle; David (Suzanne) Pfenninger of Carmel; Christa Isaacs of Noblesville; Brian Pfenninger of Livingston, Tennessee; Andrew (Melanie) Smith of Monticello, Kentucky; Caroline (Tim) Neal of Johnson City, Tennessee; Ashley (Aaron) Huffman, Shannon (Nathan) Wright, Lee (Amber) Marcum, Brian (Lori) Matthews and Dustin (Courtney) Matthews all of New Castle and Eric England of Indianapolis. Two sisters, Nova Uldean Hollingshead of Eugene, Oregon and Virgie Kate Holt of Byrdstown, Tennessee also survive. Virginia leaves to cherish her memory, 33 great-grandchildren,17 great-great-grandchildren and many loved nieces, nephews and cousins.
Virginia was preceded in death by her husband, O.B, two children, Billy R. Smith and Brenda Pfenninger, and her parents, H.E. and Catherine (Kate) Amonett, and her great-grandchildren, Olivia and Elijah Wright. Also preceding in death were her siblings, Esther Copeland, Newton Amonett, Andrew Amonett, Lucille Pyles, Levi Amonett, Melva Neal, Audra Jolly, Tom Amonett, Benton Amonett and Woodrow Amonett.
Visitation will be held in New Castle on Tuesday, August 7. 2018 at Sproles Family Funeral Home from 4-8 pm and on Thursday, August 9, from 4-8 pm (CST) at the Bloomington Christian Church in Byrdstown, Tennessee. Funeral services and a "Celebration of Life" will be conducted at the Bloomington Christian Church on Friday, August 10 at 11 AM (CST). Marc Champion will officiate the funeral and burial will follow in the Amonett Family Cemetery. You may leave a condolence or share a memory of Virginia at www.sprolesfamilycares.com
Donations in her memory may be offered to the Henry County Community Foundation, P.O. Box 6006, New Castle, IN 47362, www.henrycountycf.org, for the O.B. Smith and Bill Smith Memorial American Music Award or to the preservation of Roughshod Hollow, 115 Sewell Creek Road, Byrdstown, TN 38549.
Ths Sproles family and staff are honored to serve the family of Virginia Evelyn Amonett Smith.
Visit here to make a donation to the O.B. Smith and Bill Smith Memorial American Music Award.